The forecourt of the main station in Böblingen used to be dominated by cars, but now the pedestrian zone with paving stones is a pleasant resting place for the eyes. A roundabout at the end of the reduced driveway now directs the arriving cars. Almost 400 meters of a car-free zone invite passers-by to stroll from the train station via Olgastraße to Elbenplatz. In addition to the benches and bike hangers, water features loosen up the promenade. The new Böblingen pedestrian zone is made up of different stone formats, which result in an irregular pixel pattern. The granite stones were laid on a drain concrete base layer with a joint rod on all sides for optimal force distribution. In the beige floor, clouds with a higher proportion of gray accentuate the areas under the trees.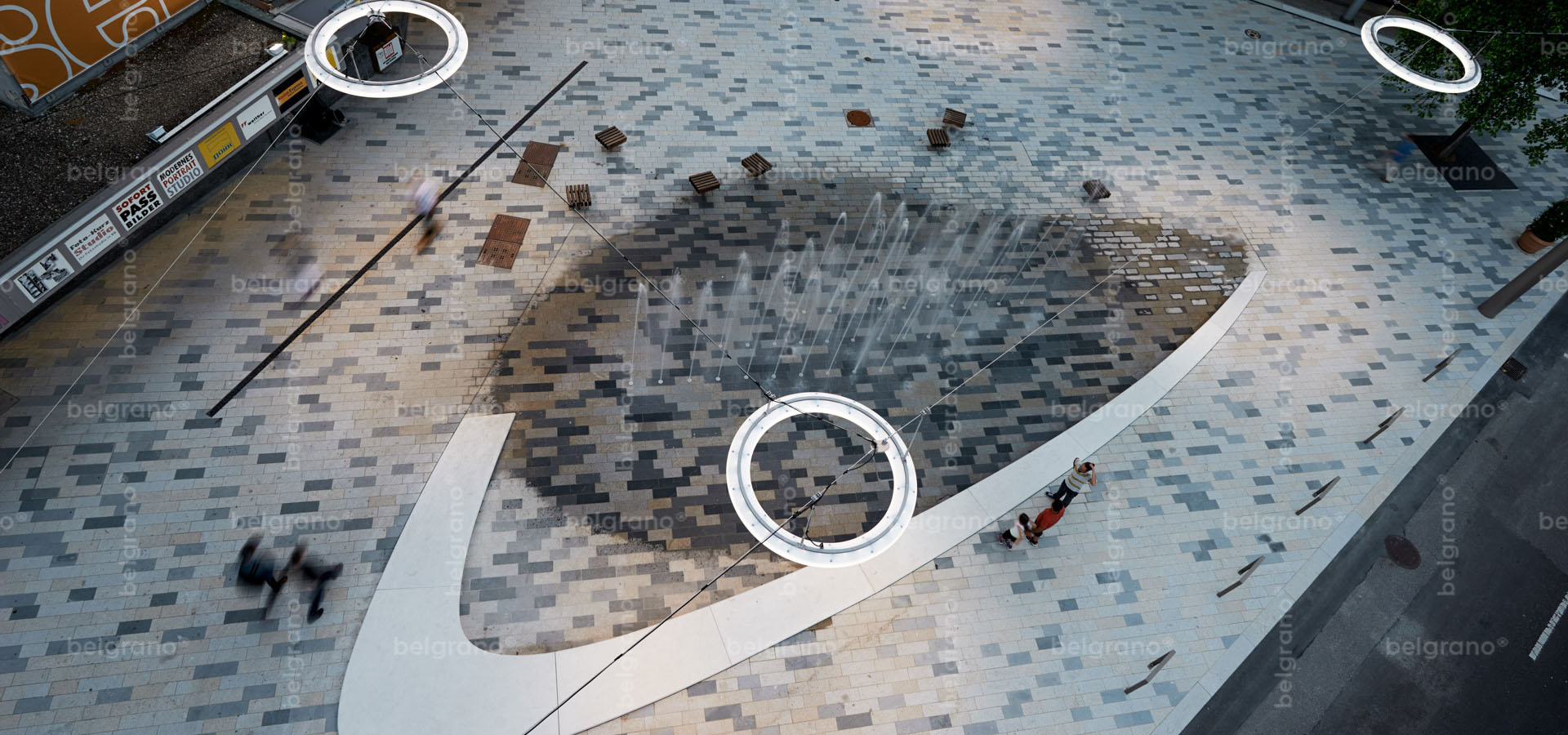 In order to develop the entire city center of Böbling, a comprehensive renovation plan was decided. The main goal was to maintain the independent character with the historical, medieval town center and the lower town as a business district in the best possible way. The Mayor of Böblingen, Christine Kraayvanger, is delighted with the various successful measures for urban renewal, such as the redeveloped promenade: "The opening festival of the pedestrian zone aroused enormous interest and received a lot of approval. The new natural stone covering made of granite from BESCO is practical and of high quality at the same time in its lively colors. Step by step, our inner city will become more attractive. This is how our urban development is moving forward."
Most of the construction work in the pedestrian zone was carried out with BESCO belgrano® granite. The Viennese landscape architecture firm bauchplan had brought the stone suppliers into conversation with the local decision-makers. Because the products of the Berlin company best matched the design ideas of the city. The responsible architect, Rupert Halbartschlager, presented the stones to the urban planners. For this purpose, a sampling of the selection and the provider was carried out. The European natural stone from BESCO "best met the high demands for the design of the New Mile Böblingen based on aesthetic aspects, ethical considerations and functional criteria", comments Tobias Baldauf from bauchplan about the decision.
BESCO supplied a total of around 15,000 square meters of granite slabs with a thickness of 16 centimeters. This corresponds to approximately 7,000 tons of finished granite goods. The pieces were produced and delivered just in time, so that there were no delays or waiting times. Reason for joy for those responsible at BESCO: they have already been awarded the contract for the next upcoming construction phase in Böblingen.