The definition of test procedures
Previously, it was common practice in the skilled trades for the master craftsman to pass on his wealth of experience regarding the properties and workability of materials to the next generation verbally. In the meantime, the variety of natural stone materials has become so extensive that, as early as the 1930s, test methods began to be described and defined in order to meet the ever-increasing demands placed on structures.
The determination of water absorption
This also includes the determination of water absorption. This is currently carried out in accordance with DIN EN 13755:2008-08 and is an important characteristic for estimating other physical properties.
It should more correctly be called: Determination of the water absorption of natural stone under atmospheric pressure, because the measuring principle of this determination is to be understood in no other way:
Defined test specimens are immersed in a water bath at (20 + 10) °C for a specified period of time without generating an overpressure or underpressure, and their weight increase is determined.
The parameters to be observed
Needless to say, a number of parameters must be complied with for this test as well. For example, only cylindrical, cubic or prismatic specimens with an edge length of (70+5) mm or (50+5) mm may be used, which must also meet requirements for minimum volume and surface/volume ratio.
The sample preparation
Sample preparation by drying the specimens until mass constancy is very important. Since this may only be carried out at a temperature of approximately 70°C, an increased amount of time must be planned. Mass constancy is achieved when the weight does not change by more than 0.1 % within (24+2) h.
The test
Once the specimens have cooled down to room temperature in a desiccator, the actual testing begins. For this purpose, the specimens are first dry-weighed and then placed in the water basin at a distance of at least 15 mm from each other. Water saturation must then take place step by step at defined time intervals. After approximately 48 h, the first wet weighing of the natural stone specimens is carried out. Subsequently, the specimens must be immersed in the water basin again and reweighed every 24 h until the mass is constant. For some varieties, this can take quite a long time.
The calculation of water absorption
The last weighing must then be used to calculate the water absorption. The result, the water absorption Ab , is given as 0.1 %. If necessary, the upper expected value EH must also be calculated for the preparation of performance declarations.
Guidance values
Guideline values for water absorption in the area of paved surfaces, slabs and edgings can be found in TL Pflaster-StB 06/15: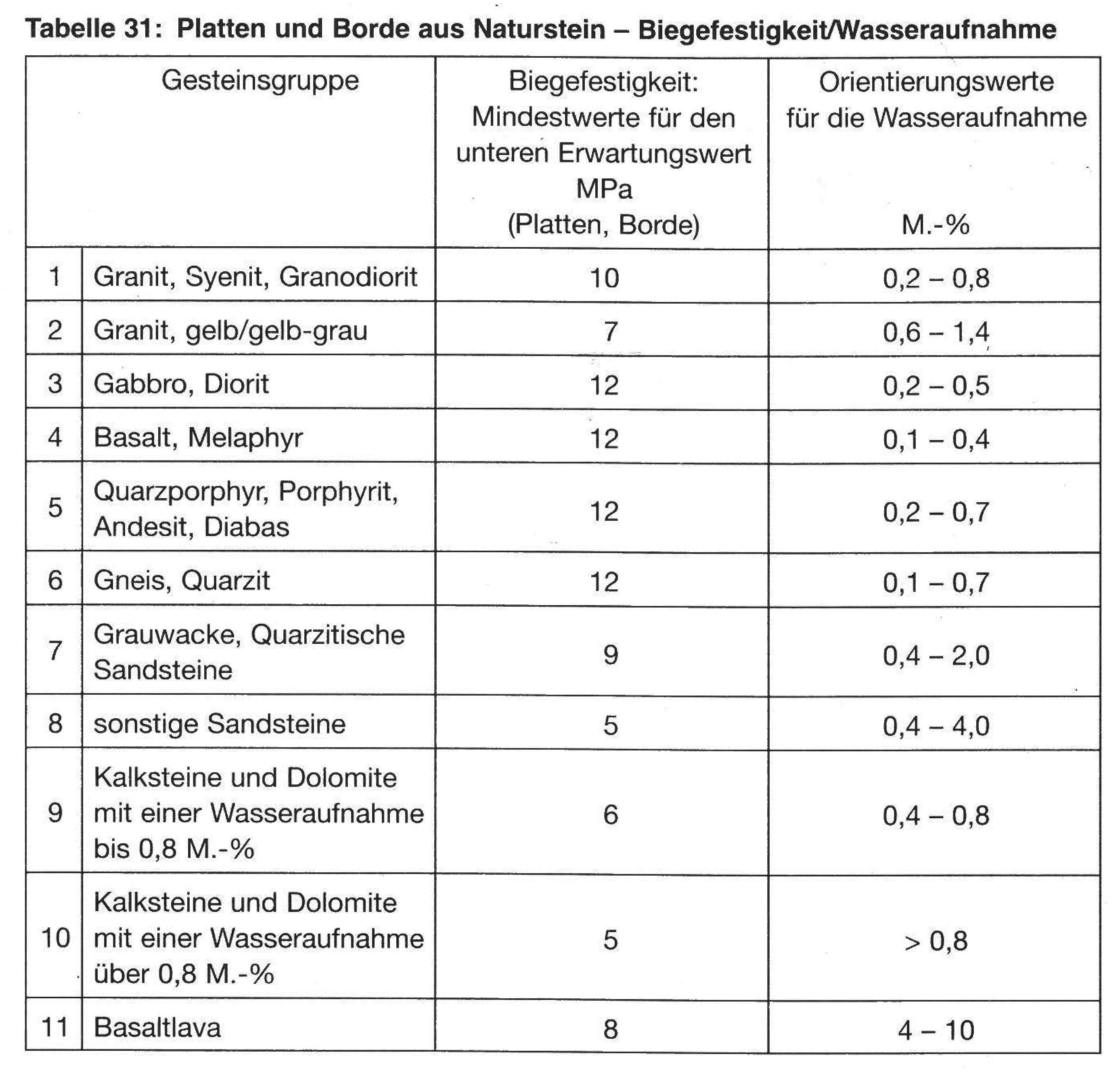 Further information
If you have any further questions or would like individual support for your project, please feel free to contact us at any time via our contact form or send us a message to mail@besco-gmbh.de. We will get back to you shortly.
Further exciting content awaits you in upcoming articles in the INFO series on natural stone testing.