Our company trip in September – we head towards Potsdam
It was time for a company trip once again this month. When planning and thinking about what could be a suitable activity everyone would enjoy, the right idea was born quickly: We wanted everyone to see our projects for themselves. Exemplary to admire and without traveling long distances: The destination of choice was Potsdam.
The meeting point was the island café. Here we had breakfast together and strengthened ourselves for the day ahead. Afterwards, we picked up rental bikes – considering the distance we wanted to cover. Together with the kids we first went to the branch of the Mittelbrandenburgische Sparkasse. The belgrano® natural stone paving supplied for this project comes from three different countries and creates an appealing courtyard.
Once across the city – from Brandenburg Street to the Minsk Museum and the State Parliament
Next we went to the municipal building site, where the belgrano® stones for the upcoming construction of the Brandenburgische Straße are stored – our chance to have a look at unlaid belgrano® natural stone pavers. We will be all the more excited to see the laid pavement in downtown Potsdam when the prestigious street is reconstructed piece by piece.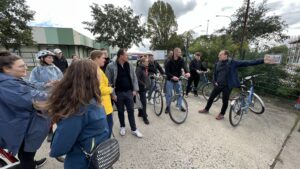 Our tour then took us to the Minsk Museum – a project that has opened just a few days ago. A new meeting point has been created right next to the blu sports and leisure pool. Here, tourists and residents can now admire fountain fields, paving, stairs and seating elements made of belgrano® natural stone. In the immediate vicinity of the train station, the square is the flagship for and a new gateway to the state capital of Brandenburg. Benches made of Portuguese granite invited to linger next to refreshing water elements and a playground for the little ones among us.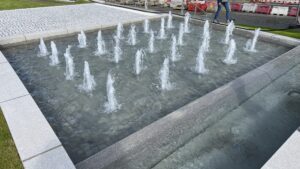 Taking a break at an ice cream parlor on Brandenburgische Straße was just what was needed. Moreover, the sun did its part in the early afternoon. With new energy, we headed for three more stops. The state parliament provides a perfect setting: belgrano® natural stone blends seamlessly into the picture of Doric and Corinthian columns.
Directly opposite is the Museum Barberini. Here, the view into the inner courtyard is worthwhile. The Century Step sculpture by artist Wolfgang Mattheuer, surrounded by belgrano® natural stone pavers, tells a fascinating story and takes the visitor on a journey into Germany's formative past. The large staircase made of belgrano® granite leads directly from the courtyard to the Havel River flowing along.
A beautiful day comes to an end – team atmosphere above the roofs of Potsdam
The final stop on our city tour was to be the Film Museum. Anthracite-colored edging elements made of belgrano® natural stone were installed here. An all-around successful day was coming to an end. The joint dinner with relaxed conversations in a restaurant above the roofs of the city formed the conclusion of our excursion. We will see to which place and to which projects we will be drawn next time. We are curious and will report…